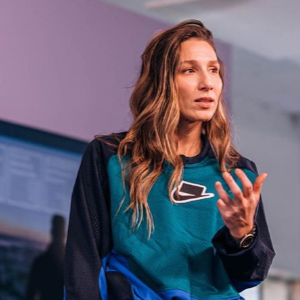 This conversation is with former Olympian Nicole Davis speaks on the importance of believing in yourself in times of stress and uncertainty. She pushes her audience to embrace uncomfortable moments as a catalyst to improve themselves in any facet of life. Davis is a retired two-time Olympian and two-time silver medalist. She spent 11 years on the USA National Volleyball Team and played professionally in eight different countries in Europe & Asia. She also helped lead her team in back-to-back NCAA Championships at USC in 2002 & 2003. Davis currently works as a coach and expert on high performance and cultural development at Compete to Create, a company co-founded by Pete Carroll and Dr. Mike Gervais. Her vision is to help accelerate the learning of others through her experiences in pursuing her best in her craft and on the world's stage. She is passionate about impacting others and has seen what people are capable of. There is now more science and language around the processes that allow people to really get after it in life and pursue their potential.
"…Everything we have is already within us, and if we can anchor more to the idea that when things don't go as planned that I can adjust, and do work to have great skill at adjusting rather than the incessant need to prepare and to be perfect we will probably perform better, feel more alignment and feel a lot more joy in the experience…."  - Nicole Davis
What we talk about:
Finding yourself
Self-Talk
Being an Olympian
Getting uncomfortable and inviting stress for excellence
How she found Volleyball
The influence of her parents
Taking risks and the limits we all have
Definition of Success
Challenging yourself
Accepting where you are and who you are
The impact of living with an abusive father
Processing Trauma
And So much more
References:
Credits:
Lead editor + Producer: Ruf Holmes 
Music:
Main Theme: "Eaze Does It" by Shye Eaze and DJ Rufbeats, a More In Common Podcast Exclusive.
Guest theme:  "Reach out" by DJ Rufbeats created as a More In Common Podcast Exclusive.