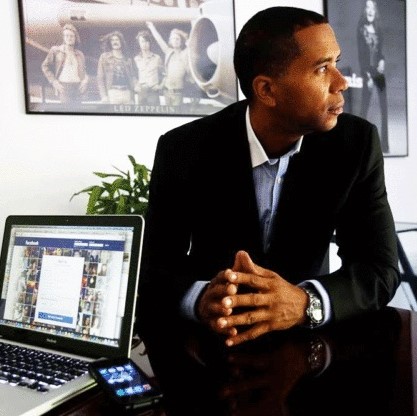 We all too often think of growing old as a bad thing. Perhaps we confuse diminished abilities with diminished value. Our life is too often considered as being "over" when we get old. 
Music executive Adrian Miller, challenges this perception stating that "we calibrate over as gray and old." His image of the passage of time is much different. He directs us to craft a perception of life that honors and supports growing old at every stage of one's life. He notes that without elders' wisdom present in his early life, his success would not be what it is today. Miller's drive to honor the lives of the elderly, offers us an opportunity to rethink and recognize those who impacted our lives in so many ways. He offers that we can and should give back, whether it's financial support or simply our time. Showing how much you care and value our aged mentors is one of life's greatest treasures. 
"The writing is in front of you and on the wall.  Whether or not you look at it or evaluate the value of that is on you as an individual." -  Adrian L. Miller 
 
Adrian L. Miller is an American music entertainment executive, manager, and executive producer, a notable manager of both Oscar and Grammy award nominated and winning artist Anderson Paak, Mereba and NxWorries. Miller has diversified his portfolio as a label owner, publisher, songwriter, A&R/talent scout, executive producer, and artist manager. Recently he has teamed up with Michael Ross (co-founder of the label Delicious Vinyl), together with Leslie Cooney, they started the label reboot now called Delicious Vinyl Island. 
Currently, his work is in music supervision/music consulting for film and television projects include RZA's, Cut Throat City (Patriot Pictures) and the series Wu-Tang: An American Saga (Hulu) and F. Gary Gray's Men in Black: International (Sony). He has received the Cannes Lion Award for his work on the 2018 Apple Music Home Pod commercial with Spike Jones. 
Adrian created the marketing research company, Xyion, that can trend forecast change in our marketplace.  Through previous relationships and having run several indie start-ups, Xyion provides top tier placement for the clients, offering over two decades of experience and endless creative opportunities.  
Miller has received several RIAA certifications for gold and platinum sales success in music, and in 2019 the Grammy Award for best rap performance, "Bubblin" by Anderson .Paak.[1][2][3] 
Topics we discuss: 
Deep conversation on how we treat our elders

 

Ideas to show respect

 

Current cultural climate on elders

 

Treating others with dignity

 

How to assess wisdom

 

How to assess the value of self and others

 

Childhood in Leimert Park

 

The Museum of Black and it's influence 

 

Meeting your heroes

 

His story about Anita Baker

 

Knowing we all won't be here forever

 

celebrating life

 
References: 
Credits: 
Lead editor + Producer: Ruf Holmes 
Music: 
Main Theme: "Eaze Does It" by Shye Eaze and DJ Rufbeats, a More In Common Podcast Exclusive. 
Guest theme:  "Soul Push" by DJ Rufbeats created as a More In Common Podcast Exclusive.